Recipe By: Carolyn Casner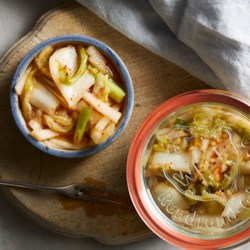 Homemade Kimchi
"If you are looking to start fermenting your own vegetables, kimchi is a great place to start. It is easy to make, and fermentation takes just a few days. Once you have kimchi on hand, use this healthy Asian condiment to liven up brown rice, soups, stir-fries, grilled cheese sandwiches, tacos—and the list goes on!"
Ingredients
2 pounds napa cabbage, cored and cut into 1-inch pieces
¼ cup kosher salt
8 ounces daikon radish, cut into matchstick strips (2 cups)
4 scallions, trimmed and cut into 1-inch pieces
2-4 tablespoons Korean-style red pepper flakes (gochugaru)
2 tablespoons fish sauce
¾ ounce fresh ginger, cut into matchstick strips ( ¼ cup)
2 cloves garlic, quartered
1 teaspoon sugar
Directions
1 Combine cabbage and salt in a large bowl. Add enough water to cover the cabbage. Keep the cabbage submerged with a plate or a sealable bag filled with water. Cover the bowl and let stand at room temperature overnight or up to 24 hours. Drain the cabbage, saving the brine. Rinse and squeeze the cabbage dry. Return to the bowl and add daikon and scallions.
2 Place red pepper flakes, fish sauce, ginger, garlic and sugar in a mini food processor. Process until almost smooth. Transfer to the large bowl with the cabbage. Using a disposable food-safe glove, massage the vegetables and the red pepper mixture together until well coated. Pack into a 2-quart glass jar. Add enough of the reserved brine to just cover the vegetables. Screw on the lid. Place the jar on a rimmed baking sheet and let stand in a cool place. Make sure that the vegetables are always covered with brine. Taste after 3 to 5 days. The kimchi is ready when it tastes good to you. Reseal the jar and store in the refrigerator.
To make ahead: Refrigerate the finished kimchi for up to 3 weeks.